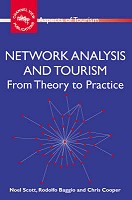 NETWORK ANALYSIS AND TOURISM
From Theory to Practice
Noel Scott (University of Queensland)
Rodolfo Baggio (MET - Bocconi University)
Chris Cooper (Nottingham University Business School)
Channel View
Clevedon, UK, 2008
This book provides a comprehensive review of the contribution of network analysis to the understanding of tourism destinations and organizations. It discusses both the theoretical and methodological underpinnings of network analysis and then illustrates the relevance of this approach in a series of tourism applications.
CONTENTS
1. Introduction; 2. The Historical Development of Network Theories; 3. The Network Concept and Tourism

Qualitative Approaches to Tourism Network Analysis
4. Conceptual Tools for Evaluating Tourism Partnerships; 5. Tourism Destination Networks and Knowledge Transfer; 6. Policy Networks and Tourism Governance; 7. Network Governance and Connectivity: A Case Study; 8. The Benefits of Networks to Small and Medium Sized Tourism Enterprises; 9. International Tourism Trade Networks: The Case of the Chinese Inbound Travel Trade to Australia; 10. Power, Destination Branding and the Implications of a Social Network Perspective

Quantitative Approaches to Tourism Network Analysis
11. Issues in Quantitative Network Analysis; 12. Visualizing Tourism Networks: Connecting the Dots; 13. Complex Tourism Networks; 14. Technological Tourism Networks and Network Simulation; 15. Conclusions
The authors
Noel Scott has extensive experience as a senior tourism manager and researcher and over 25 years in industry research positions. He holds a doctorate in tourism management and Master degrees in marketing and business administration and is a senior lecturer at The University of Queensland, Brisbane, Australia.
Rodolfo Baggio is a lecturer at Bocconi University in Milan, Italy. He has a background in Physics and actively researches and teaches in the field of information technology and tourism. He is now applying quantitative network analysis methods to the study of tourism destinations.
Chris Cooper has degrees in geography from University College London. He is joint editor of Channel View's Aspect of Tourism Series and co-editor of Current Issues in Tourism. His research interests lie in the area of destination management particularly focussing on network analysis and innovation. He is currently director of the Christel deHaan Tourism and Travel Research Centre at the University of Nottingham, UK.
Read an excerpt (pdf file)
More info: Publisher's website